TruePerk: Powered by True Incentive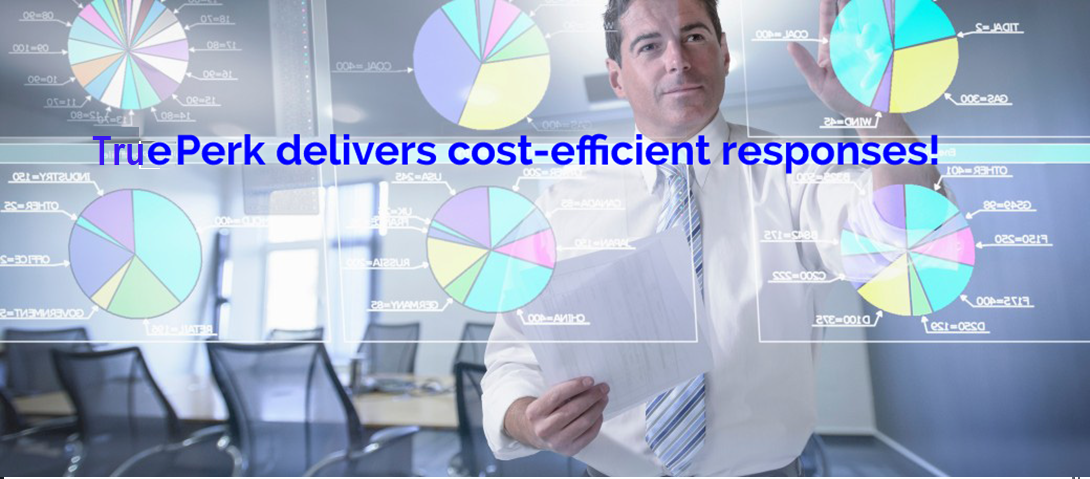 TruePerk can be deployed to drive consumer behavior in face-to-face, print, call center or internet environments. From click to call, TruePerk increases engagement and responses from your target audience.
Virtually any online call to action can be incentivized easily with TruePerk via an API. Call centers and face-to -face marketers including OPC, trade, and event staff, can offer incentives from any smart phone, tablet, or computer. Marketers love the streamlined logistics of virtual inventory, and consumers enjoy easy access and delivery of their gift via email or SMS.
The TruePerk system operates on a SaaS model and has robust reporting capabilities to keep your finger on the pulse of your campaign. Your data stays secure with security parameters designed to ensure you rest easy and still are flexible enough to interface with partners on social media platforms such as Facebook, Instagram, Twitter and Pinterest.
Powered by the incentive marketing experts at True Incentive, TruePerk is flexible enough to accommodate direct click-throughs from a specific call to action, interact with a data catcher and send information automatically or even generate a call to an agent who can interact with the consumer.
TruePerk offers generic or co-branded delivery to leverage your brand. White labeling is also available.
---
Why TruePerk?
Generate More Responses From Marketing Initiatives
True Incentive is first in the travel incentive world to offer a digital delivery system to quickly drive consumer behavior and increase response rates. Use TruePerk for lead generation, generating inbound calls, owner referrals, member loyalty, and upgrades.
Travel incentives are no longer confined to the restrictions of conventional paper distribution. The TruePerk platform delivers direct marketers of all kinds improved response at the speed of NOW. True Incentive's proprietary digital delivery system drives consumer behavior and eliminates logistical challenges of maintaining a physical inventory.
TruePerk maintains price point integrity, offering a high perceived value item without jeopardizing pricing structure. Timeshare marketers, Vacation Club lead generators, web-based timeshare resellers and inbound response centers all welcome the lightning fast response times from offer to action that TruePerk delivers.
To remain competitive, businesses must seek new and improved ways to:
• Easily deploy solutions that give you results NOW
• Have time to focus on improving your business instead of managing it
• Free up cashflow and streamline logistics
• Keep your finger on the pulse of your business with intelligent reporting
• Have peace of mind through enhanced security features
• Enhance your image with customizable solutions for a seamless customer experience
Direct marketers of all kinds, including direct mail companies, can use TruePerk to maintain price point integrity, offering a high perceived value item without jeopardizing their pricing structure nor dropping prices.
Web-based timeshare resellers and inbound response centers welcome the lightning fast response times from offer to engagement.
Greener, Faster, More Efficient
---
TruePerk Delivers Cost Efficient Responses
What are the Benefits of TruePerk?
• No pre-ordering—easy billing on distribution
• No managing inventory—streamlines multi-location logistics
• Free up cash flow –pay only for what you use
• Low cost, high value incentives are delivered at the speed of light
Created by incentive marketing leader True Incentive, TruePerk is a SaaS model with state-of-the-art reporting capabilities, security parameters and products that make it easy and cost efficient for marketers to drive consumer behavior. Consumers benefit from effortless access to an abundance of products ranging from cruises, vacation packages, hotel stays, gift cards, restaurant certificates and resort vacations. Marketers benefit from proven products that are delivered electronically, with data captured, usage tracked and results reported in real time.
Drive Response Now
---
How TruePerk Works
TruePerk operates in one of two modes:
Client Controlled Distribution, used to drive response via remote or face-to-face interaction
• Your agents log in to the intuitive TruePerk portal and select an incentive to send to your prospects via email or SMS.
Fully Automated Web Service, for all online environments

• When initiated by your desired online action, TruePerk automatically selects your desired incentive and delivers it to the consumer either instantly or on a delay specified by you.
You choose:

• What incentives you wish to use
• How you wish to deploy them
• What reporting options you desire
• If you want generic or Co-branded delivery
We Implement:

• Set up a virtual inventory of incentives
• Provide you with an API to plug in to your call to actions
• Set up your authorized users
• Customize your reporting and delivery options
• Provide support and training
Call now to find out how our low cost high value incentives can e-lectrify charge your marketing efforts with e-Perk. 
800-684-9419 x 110